In February 2021, Lumenture introduced our new suspended track system, K-Beam, to the lighting world. With a small form factor and unparalleled strength, the K-Beam redefines suspended track lighting. But how? 
Here's everything you need to know about Lumenture's patent-pending suspended track system, K-Beam.
STRONG I-BEAM DESIGN
One thing that makes K-Beam impressive is its patent-pending I-Beam design. Traditionally, I-Beams have been used in construction as a critical support system. Horizontal flanges run down each steel beam to help resist bending. If I-Beam channels are strong enough to be the primary framework of modern construction, why not use them for the primary framework for a track lighting system?
The use of I-Beam channels in K-Beam's design allows suspension on 8' centers. This is 50% fewer suspension points than traditional suspended track systems.
The extra support allows not only longer distances between suspension cables, but it also eliminates any sagging or tilt that you might see in other track systems.
SUSPENSION STABILIZING ROD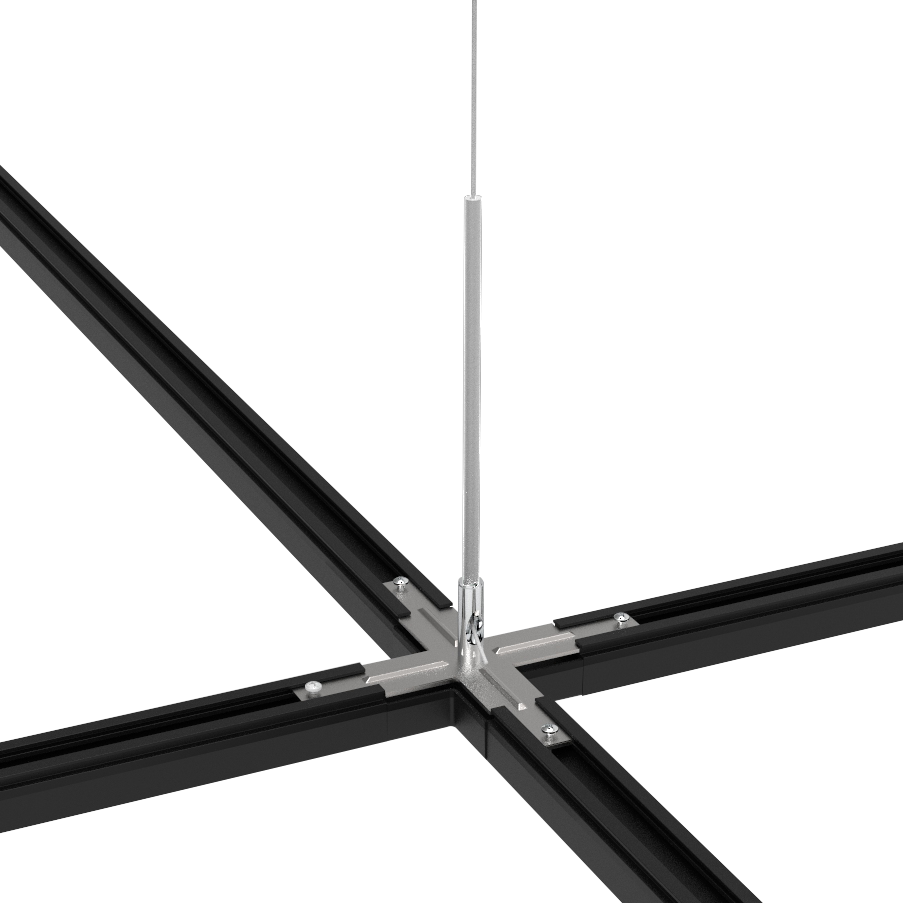 Because of its structure, K-Beam track is strong on it's own. But there's no harm in adding extra stability to the entire track system, right?
A stabilizing rod is offered in each K-Beam suspension kit. The stabilizing rod slides over the suspension cables and connects to the cable gripper, acting as an extra layer of strength. Although this isn't required, it does further increase the entire system's alignment making K-Beam even stronger!
LIGHT FIXTURE COMPATIBILITY
There are thousands of track fixtures to choose from in the lighting industry and a handful of track types. It's important to be able to choose the light fixtures that work best for each retail space, and you shouldn't have to worry about them not fitting into your lighting track. 
With this in mind, Lumenture's engineers designed K-Beam to be compatible with J-Type track fixtures–the most common track fixture type on the market.
TWO-CIRCUIT TRACK SYSTEM
Two-circuit track systems are a lighting designer's dream. Multiple circuits allow you to place your lighting fixtures on the same piece of track, but with separate controls. Having this added flexibility as a lighting designer is key to perfecting a space. 
Pro Tip: Combine track heads and track wall washers for even more lighting design flexibility in K-Beam's two-circuit, one-neutral configuration.
SUSPENDED TRACK CONNECTORS & JOINERS
Suspended track systems are a key to lighting lofted ceilings, retail stores, and many other types of construction. But the best part about suspended track is that they offer so much design freedom. By having different connector pieces and options, K-Beam has the ability to fit into any space in pretty much any desired configuration. Connection options include:
Top Access End Feed and Power Feed Connectors

Straight Joiners and Straight Connectors

T Joiners and T Bridge Connectors

90 Degree Joiners, Connectors, and Power Feed Connectors

X Joiners and X Bridge Connectors
AFFORDABLE TRACK LIGHTING SYSTEM
Are you ready to learn the absolute best part about K-Beam? 
It saves you money. 
Because of its superior strength, there's no need for adding extra support systems. That means no Unistrut or any other proprietary suspended track systems to deal with. This alone brings down your installation costs significantly. 
Now, consider the fact that you don't need as many suspension points. With as few as one-half of the suspension points versus traditional track, you also save money during installation. In fact, K-Beam reduces installation costs by 35% or more.
LEARN MORE ABOUT K-BEAM SUSPENDED TRACK SYSTEM
Want to know even more? Reach out to our team to request a sample of K-Beam or find a sales representative in your area to learn about K-Beam and our track-compatible products.